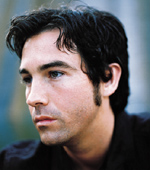 Thank you for coming to the House--make yourself comfortable. Let me tell you a little about why I am building this home for the "donuts" among us.
Several years ago, Duncan Sheik's work totally changed my perspective on the world; thankfully, I shall not be the same.
"She Runs Away" will always be my favorite of Duncan Sheik's songs. It was the first song I heard by the supremely talented singer/songwriter. I know I interpreted the song differently than Duncan himself might, thinking of the "she" he refers to as some embodiment of emotional quiet, safety, and even sanity, rather than a real person. I think the most powerful lyrics are: I mystified the simple life, / I covered up with consciousness, / I saw myself and broke it down til nothing more was left. / She saw the symptoms right away, / She spoke to me in poetry, / Sometimes the more you wonder why, / The worse it seems to get.
These words are reminiscent of the Buddhist threefold path to happiness. (Duncan is a practicing Nichiren Buddhist). First, we must understand that we create most of our own suffering needlessly. Then, we must look at our own actions and explore how they might lead to suffering. By doing this, we assert that we, ourselves, have the power to end our own suffering. Duncan infuses most of his work with this simple, but urgent message.
It feels like I'm HOME.