Lindsey's Park West Experience
Lindsey went to see Duncan's April 12, 2001 show in Chicago, Illinois, and had a grand old time. Here, she describes the fun she had. Thanks, Lindsey!
So anyways, after driving to Chicago and getting thoroughly lost the evening proved well worth the wait. The show started promptly with Fisher who were excellent! I definitely suggest getting their cd at the show.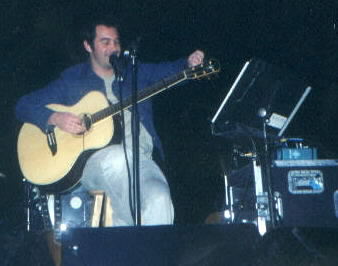 But everyone wants to know about Duncan~
He was amazing of course. He was about five feet in front of me & flash pictures were allowed at our venue, so I can't wait to develop my pics.
In the beginning after every song when everyone was wildy applausing he'd always show this smile like he was embarrassed.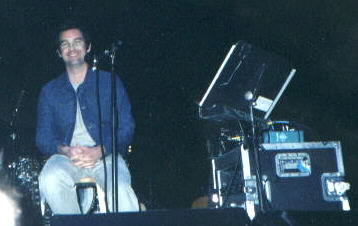 After a few numbers during a pause people started asking questions. He said 'they were planning to be mellow tonight but I can see that's not happening. Oh, now questions & answers' One of the questions shouted was when did he lose his virginity, enough to make anyone blush. He answered that he was sixteen in Paris.
The rest of the night was very relaxed & talkative. Duncan opened with a cover of a Nick Drake song & in the encore he sang "You Shook Me All Night Long" as I guess he did in MN. After that number someone kept shouting "Freebird" & he said, "the appropriate response to that is..." and then flipped him off. The one song he did sing tonight but not in MN is Wishful Thinking, he said too many fans were mad he didn't sing it there so he put it in.
After the show I got autographs & pictures with Gerry, Jeff & Duncan (I couldn't find Matt). Duncan signed autographs in the lobby & when I was two people away the management of the venue said they were closing & every had to leave.....but graciously Duncan didn't want to disappoint the fans so told everyone just to move it outside by the tour bus. :}
Although I got lost getting there, found a parking ticket on my car when I got back to it, & got lost getting out of there, it was worth it & would go a million more times. Here is a list of songs Duncan sang in case you're curious to know if he'll sing your fav: (in no order)
She Runs Away, Barely Breathing, Serena, Out Of Order, The End of
Outside, In Between, Rubbed Out, Alibi, Nothing Special, Longing
Town, Mouth On Fire, Mr. Chess, A Mirror In The Heart.
Enjoy all your shows to come!!!
--Lindsey


More Pics . . .

Feels like I'm HOME.