The Study
Where to find the latest news.
---
The News! :-)
---
(Updated April 8th, 2000)
It's a Duncan Sheik concert date! Fresh from Gerry Leonard, this news: "Duncan Sheik and Gerry Leonard will perform Nick Drake's "Pink Moon " Album in its entirety at joe's pub NYC Thursday April 13. Tickets are $15 and available from Joe's pub (212 539-8776). Pink Moon at 9:00pm but come early for the good seats and a spookyghost set at 8:30 pm. Later Mr. Sheik will be spinning some tunes and it's free in after 10:30 pm. Go to the spookyghost gigs page for address and directions." Sounds like it should be wonderful! Please e-mail me if you plan to attend! :-)

---
(Updated March 4th, 2000)
It's a Duncan Sheik concert date! Fresh from Gerry Leonard, this news: "Spooky Ghost plays Spooky Host March 9. Petes Candy Store, 10:30 pm (709 Lorimer Street, Williamsburg, Brooklyn. (718) 302-3770) March 9 , the very special guest will be Atlantic recording artist Duncan Sheik. Gerry and Duncan will play songs from their recent BAM performance of Nick Drake's Pink Moon and sneak preview some new songs from Duncan." Sounds like it should be wonderful! Please e-mail me if you plan to attend! :-)

---
(Updated January 21st, 2000)
More info about Duncan at Sundance in these two articles: http://biz.yahoo.com/prnews/000124/ut_enterta_1.html and http://dailynews.yahoo.com/h/nm/20000118/re/music_sundance_1.html . Enjoy!

---
(Updated January 21st, 2000)
Just got this news fresh from Cyndi Mudge/FO, Events Producer for The Palace! "Greetings! The Palace is live at the Sundance Film Festival and will be featuring Duncan Sheik as part of its celebrity chats during the Festival. Duncan appears at Arena Palace on Friday, January 28, at 4:30 pm. We're trying to alert all his fans. To learn more about Palace chat and celebrity chats visit: http://www.thepalace.com/sundance"

---
(Updated January 10th, 2000)
Frustrated with the official duncansheik.com website? Here are the right people to contact: Duncan's manager David Leinheardt at dlmanagement@earthlink.net, and the technical contact for duncansheik.com, Jon Luini at jon@luini.com. Please be polite and respectful to Mr. Leinheardt and Mr. Luini. Please do not redistribute this information--refer people to this site. I'm relying on the honor code for that one. Remember you represent all donuts everywhere when you write them. Make me proud. :-) Also, remember that acoustic CD that you read about here first? Duncan has set a tentative release date of Spring 2000, so watch those record bins!

---
(Updated December 15th, 1999)
Duncan will be appearing on "The List" tonight, VH1 @ 9:30 pm Eastern time. Enjoy!

---
(Updated December 3rd, 1999--my birthday!)
Well, one word for the Duncan Sheik performance--Wunderbar! It was a wonderful performance--he was just so much fun to watch (especially from the front row with my cool roommate, Sarah)! During the first two songs, he was actually bouncing up and down in his chair and grinning--it was very cute. My fave Duncan quote from the concert? "Wow, I always wanna play for Nick Drake fans--you guys are the best audience *ever*!" I met Ani, Maria and Ariana from various Duncan Sheik lists, and we gave each other moral support in our nervousness. I got a lot of time to speak with Duncan, both before the show and after--he was really cool about hanging out and meeting everyone. Soon, I will be adding a page dedicated to the performance, with pictures, autographed stuff, the program, etc. In other news, for those of you who have cable but were unable to make it to the NY performance last night, never fear--Duncan will be on the Sundance Channel in "Where Music Meets Film: The Sundance Film Festival." It's showing on Dec. 5 at 12:05pm, Dec. 17 at 9:30 and 5, Dec. 23 at 10:30am, and Dec. 31 at 7pm. Enjoy!

---
(Updated November 24th, 1999)
It's a new Duncan Sheik concert date!!! Next Thursday, December 2nd at 9:30, Duncan will be appearing with Spooky Ghost at the BAMcafe, on 30 Lafayette St. in Brooklyn, NY. There is no charge for the show, just a $10 minimum for food and drink. You can take the Route 2 or 3 subway from Penn Station to Atlantic Avenue, which will get you a block away from the cafe. Look for the clock tower and walk down Ashland Place to the far side of the same block. The main BAM building is at 30 Lafayette. The BAMcafe is on the second floor of the main building. Hope to see you there!

---
(Updated November 16th, 1999)
Well it's official! "View From the Other Side" will appear on the "Friends, Again" soundtrack, coming out November 23rd.

---
(Updated November 14th, 1999)
The new issue of "Us" magazine, featuring the man has hit newsstands! To get the text from the photo spread, go here.

---
(Updated November 7, 1999)
Duncan appears in the December issue of "US" magazine! Go buy it, go buy it, go buy it, go buy it!
---
Well, as some of you will already know, Duncan gave an informal chat on October 26th. It was a bit of a disappointment to most serious donuts and even most casual fans, but there were a few highlights. First, Duncan is conceptualizing and working on his third album, which he says will be entirely acoustic "nothing electric or electronic, just my voice, my guitar, some drums and maybe some other little acoustic instruments. It'll be a little like a Nick Drake record." Sounds good to me, Duncan!
---
"Spring Awakenings" is still in the works, and Duncan estimates that it will be in the La Jolla theater out in CA by fall/winter 2000. Duncan's hero is Mr. Ikeda, president of Soka Gakkai International. Since I don't have this part of the interview verbatim yet, I won't presume to paraphrase and possibly misrepresent Duncan or Mr. Ikeda. Duncan would tell inspiring musicians to "Just write what sounds good to you. If you feel passionate about it,then other people will too. And if people laugh at what you do, it doesn't matter. It just doesn't matter. Just write what's inside of you and other people will be inspired by it. It's universal in that way."
---
Duncan is first to attend the theater and the museum, but don't expect to see him at any rock concerts--unless it's Radiohead. He considers himself very pretty "cultured."
---
Duncan criticized the US' trade embargo on Cuba, noting the low-quality living conditions there. He defined semiotics as "contemporary philosophy of cultural production," mentioning that for example, one might now study the effects of the internet on human culture and personal interaction. Duncan was not actually *in* Kosovo, because that would have been too dangerous. Rather, he performed in refugee camps outside of Kosovo. Duncan said he hoped that the gift of music might blossom within a few of them, and maybe it would become something very important to them, something to make a life around. Lastly, Duncan was asked to say something to the fans. He said, "Thank you for supporting me, and I'll bring you some more stuff soon!"

---
(Updated October 16th, 1999)
Thanks, Grant, a fellow donut, for the following info! Grant says, "Just to inform everyone, as Duncan said himself, he will be on the upcoming Friends soundtrack CD compilation. The title of this CD is going to be "Friends, Again" and will be released on Nov. 23rd. No track listing is available yet, so we don't know for sure if "View From the Other Side" will be on it." But we sure hope it will! Well, in the words of *the man*, "move on, little girl[s and boys] there's a world wide open!"

---
(Updated October 13th, 1999)
Duncan is on TOUR!!! Here are the dates! Oct 19, 1999 Ventura CA Ventura Theater; Oct 20, 1999 San Francisco CA Bimbo's 365; Oct 21, 1999 Claremont CA Bridges Auditorium; Oct 22, 1999 San Juan CA Coach House; Oct 23, 1999 Los Angeles CA Mint Supperclub

---
(Updated October 4th, 1999)
More info on Duncan's latest foray into musical theatre. The production is titled "Spring Awakenings," and is scheduled to show in the La Jolla playhouse in mid-2000, with an eventual move to Broadway. Duncan says he looks forward to hearing other talented voices give life to his songs. Sounds like a fun project, Duncan! Your fans can't wait to hear more!

---
(Updated September 16th, 1999)
Well, it's official--wedding bells are not ringing for Duncan Sheik as earlier speculated. Earlier this morning, Duncan told his fans, "I'll keep this short - I'm not getting married anytime soon. But I do find the gossip kind of amusing."

---
(Updated September 10th, 1999)
Word on the street is, Duncan may be getting married . No official word of this yet, so it may very well be a big rumor, but keep your ears and eyes open!!!

---
(Updated August 27th, 1999)
Duncan appeared in an encore broadcast of the "Donny and Marie" show on Wednesday, August 25th. He performed "That Says it All" with the lovely and talented Ms. Juliet Prater backing him up on percussion. He said about the song, (not verbatim): "There's a lot of rock icons mentioned in this song, and they all tried to seek new truths through their music, and I guess it's kinda hoping we can all just follow that." Well, Duncan, your fans will certainly be inspired to try! :-)

---
(Updated August 20th, 1999)
Straight from the Dunc-man's mouth: "View from the Other Side," a '94 demo recording from Duncan Sheik, will be appearing on the new "Friends" soundtrack! Look for it in record stores! About the virtuoso guitar playing many of his fans have noted on the track, Duncan has this to say: "Although I'm playing rhthym guitar on the track, that is my great friend Fran Banish playing the solos, so I can't take credit for that! I hope you all enjoy the track." And . . . "Teaching Mrs. Tingle" is out today! Go see it! :-)In other news, "That Says It All" will be appearing on the "Three to Tango" soundtrack. "Three to Tango" stars Neve Campbell, Dylan McDermott, and Matthew Perry. Perry's character is hired by McDermott to spy on Campbell, because McDermott thinks Perry is gay and therefore safe. The truth is, Perry is very straight and has a big crush on Cambell!

---
(Updated August 19th, 1999)
"Teaching Mrs. Tingle" is coming out tomorrow, August 20th! Go see it! Go see it! Go support Duncan! WOOO!!!!! :-)

---
(Updated August 15th, 1999)
For those of you who are curious about Duncan's whereabouts, he has just finished a song, "Court and Spark," for a Joni Mitchell tribute album due out this winter. The next few months, he will be in the studio, writing what he promises will not be "typical musical theatre music" for a musical theatre production that was not specified. When I know more, you'll know more!

---
(Updated August 3rd, 1999)

Teaching Mrs. Tingle
Duncan Sheik announced on Ju1y 17th that his touching song of hidden love, "Alibi," will be featured in the upcoming flick "Teaching Mrs. Tingle," a Dimension Films picture starring Katie Holmes. You may have already heard some of the buzz about this film--it was originally titled "Killing Mrs. Tingle" and scheduled for release about the same time as the Littleton, Colorado school shootings. Out of sensitivity to the special circumstances arising from this tragedy, the studio decided to rename the movie (although they claim a renaming was already in the works) and to push back opening night. "Teaching Mrs. Tingle" is scheduled to open in late summer/ early fall. When I know more, I'll be sure to update you on what's happening.

---
Added August 1st, 1999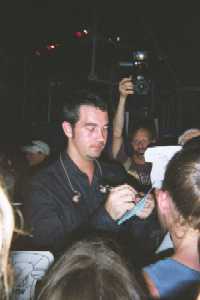 Duncan Sheik made an all-too-brief appearance at the July 17th and 18th's WXPN Singer-Songwriter Weekend down at Penn's Landing! (For you non-Philadelphians, that's the Philly waterfront :-) I dragged my Dad to the folk-heavy festival of song, and he had rather mixed feelings about it, beginning with the fact that the show didn't start until three, but I insisted that we get there at 12:30, to stand in line for when doors opened at 1. What can I say? I love Duncan!!! Then, at 3, his lead guitarist and recent opening act Spooky Ghost finished his set with a rumor that Duncan had missed his flight--a rumor which turned out to be absolutely true. All day, announcers were saying terrible things like "Maybe Duncan will still make it," or, "We think we might still be able to squeeze him in."
In the meantime, there were other great acts like Indigenous, a Native-American family band that specializes in bluegrass, and Old 97s, some slamming country rockers from way down in Texas. But my favorite was Susan Werner, a simply beautiful singer-songwriter with a voice that is, by turns, haunting, funny, tortured or torturous (in a good way!) She would throw in little growls here and there; she really got into the music! This was true of all of the day's performers, however. Everyone really gave one hundred and seventy-eight percent. Well, Duncan was supposed to come on at 7, but it wasn't until about 8:52 that a DJ finally announced that Duncan had landed, and would be coming on soon.
Duncan gave a great show. For those more obsessed Duncan buffs, the setlist was: "Rubbed Out," which Duncan has dubbed, "The Soundcheck Song," "Wishful Thinking," "She Runs Away," "Alibi," and though I remember that he closed with "Barely Breathing," I can't vouch for the order of the rest of the songs, except for his opener. Ahh, you must be wondering why the set was so short! Well, at about 9:25, some 'XPN guy ran on stage and whispered something to Duncan. Duncan promptly turned to the audience and said, "Well, they're gonna unplug me, so I can only do one more song. [Responding to loud sighs from the audience.] I know, I know, I'd love to do more, but . . . Uhh, OK, sing along." Of course, that was "Barely Breathing." And as much as I love Duncan's work, can you say "overexposure?" Uh-huh. OK, moving away from the ol' BB now . . . Just about the entire audience booed 'XPN at the end of his performance, which was kind of sad, because they put the whole thing together, and the Weekend is a fundraiser for the radio station, which is actually a Philly staple and well-loved here.
After his set, Duncan stayed to meet and greet literally thousands of adoring fans. A security guard had to make sure that poor Duncan didn't get crushed against the metal barrier he was standing in front of! I had no idea he would be so humble and kind, especially considering his meteoric rise toward the top these past few years! I got a chance to exchange a few words with him. His smile was so sweet, genuine, self-effacing, endearing . . . I was so glad to find that Duncan is really just a cool, down-to-earth guy! (Albeit a very talented one).
If you wanna see my RealPlayer Slideshow about Duncan at the Weekend, there is a link at the bottom of this page. I hope you liked my little synopsis of the event! If you have more questions, please e-mail me from the "Links" page, I love e-mail! :-)


Go HERE for WXPN's official site about the WXPN Singer-Songwriter Weekend 1999
But be sure to come back! There's not much there, just three pics each of Duncan and the other artists.

Go HERE for my slideshow about Duncan at the Weekend!


Go HERE for the Official "Teaching Mrs. Tingle" Website!
Again, be sure to come back! Not much there, just a few quick facts about the movie, and no mention of Duncan.